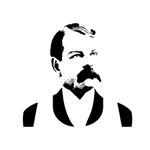 OPENING HOURS
Mon – Thu 11:30AM – 00:30AM
Fri & Sat 11:30AM – 1:00AM
Pickup & delivery via Uber Eats available
BLOODY DELICIOUS BURGERS, NOW AVAILABLE IN THE NINE STREETS
Ever since the original location of THE BUTCHER opened in De Pijp in 2012 the famous burger brand has been shaking up Amsterdam's hospitality scene.
Soon the time came to start grilling burgers in one of the most iconic parts of Amsterdam central: The Nine Streets, known for its cobbled streets, boutique shops, kitsch cafes and art galleries. Since flipping its first burger in autumn 2016, THE BUTCHER Nine Streets has continued to serve the brand's signature menu of haute fast-food on the Paleisstraat 14 and the corner of the Spuistraat and outside on the terrace in the summer months.
You can also find THE BUTCHER West in the Foodhallen, Berlin, THE BUTCHER Social Club in the ADAM Toren, THE BUTCHER Ibiza and on the road or at festivals with THE BUTCHER on Wheels. Anticipating the opening of THE BUTCHER Milan.
THE BUTCHER'S RECIPE
Created by Yossi Eliyahoo ,renowned hospitality entrepreneur and founder of THE ENTOURAGE GROUP, THE BUTCHER is a high-end yet casual burger bar. The established food concept has several locations in Amsterdam, Berlin, Ibiza and Manchester. True to its metropolitan homes, THE BUTCHER is a full-service concept offering all-day haute fast food. Everything is done with the greatest craftsmanship. The chefs work exclusively with the highest quality Aberdeen Angus beef, yet every single aspect gets the attention it deserves from 'the butchers in the kitchen. From the mix of herbs and fresh vegetables to the secret signature sauce and homemade semi-brioche bread, THE BUTCHER food is bloody delicious.
THE BUTCHER NINE STREETS
Committed to serving bloody delicious burgers to the whole of Amsterdam, THE BUTCHER Nine Streets is located in Amsterdam's trendiest shopping district on the Paleisstraat 14 and the corner of the Spuistraat, the Nine Streets menu consists of all THE BUTCHER classics: the glorious 'THE BUTCHER' Angus beef burger, the notorious 'The Ugly', the 'Silence of the Lambs', 'THE BUTCHER's Wife's Favourite' chicken burger, 'The Codfather' fish and chips, 'The Veggie Delight', THE BUTCHER's homemade milkshakes and a selection of speciality beers.
THE BUTCHER'S DESIGN
The bloody delicious burgers sizzle on the grill in familiar surroundings; the interior of THE BUTCHER Nine Streets takes on the established design by BARANOWITZ + KRONENBERG with white tiling, old-fashioned illustrations, industrial elements and the brand's famous life-sized cow hanging in the window. Like the original burger bar on the Albert Cuyp market, THE BUTCHER Nine Street features an open kitchen where the chefs work in full view of diners. A spacious terrace is a new ingredient that has been added to the well-known recipe of THE BUTCHER; high-quality milkshakes, burgers and beers can be enjoyed in the fresh air from around noon until the cows come home.
THE BUTCHER Nine Streets by The Entourage Group
The Butcher's latest Instagram posts